68 community and non-profit projects awarded funding to improve access to walking and cycling, helping to make London a more sustainable, inclusive and healthy city
Enabling more people to walk and cycle is more important than ever as capacity on public transport is reduced due to social distancing and the need to avoid a car-led recovery
Newly funded initiatives include a walking programme to support pre- and post-natal women, mentor-led cycle rides to target social isolation among young men and a new cycling rehabilitation programme for cardiology patients
Funding for Walking & Cycling Grants London has been boosted by a new funding partnership grant from The London Marathon Charitable Trust
Transport for London (TfL), in partnership with The London Marathon Charitable Trust, has today announced the recipients of the 2020 Walking & Cycling Grants London (WCGL) programme, which aims to encourage more people to walk and cycle. Grants of up to £10,000 over three years have been made available to community projects across London to deliver programmes that address barriers to active travel among traditionally underrepresented groups. Enabling more people to walk and cycle is more important than ever as capacity is reduced on public transport due to social distancing and in order to avoid a car-led recovery from the pandemic.
TfL received 128 applications this year – the highest number in the scheme's five-year history. A record 68 community and not-for-profit groups have been selected for the 2020 programme. The funded projects will enable greater physical, social and economic mobility, reduce social exclusion and strengthen communities.
This year, the scheme is jointly funded in partnership with The London Marathon Charitable Trust (The Trust) as part of a new five-year programme to inspire Londoners to cycle and walk, with many health benefits for individuals and communities. TfL research shows that people felt better physically and mentally when they introduced just 20 minutes of walking and cycling per day into their lives, with benefits including an improved mood, feeling more alert and enjoying discovering new parts of London.
The Trust, which distributes the surplus generated from all events organised by its trading company London Marathon Events Ltd, has awarded the scheme £2 million over the five-year period as part of its Strategic Partnerships Grants programme, created in 2018 to support big regional projects that inspire activity.
The 2020 funded projects will receive £593,369 of joint funding over three years, including:
The Aeon Bike Project – Inspirational Youth Ltd, Lambeth: This project will enable young black, Asian and minority ethnic men to work together within a team to tackle social isolation and mental health issues that have been heightened during the coronavirus pandemic. With advice and support from a mentor on led cycle rides, the project will help young men to speak out about their mental wellbeing and concerns around their educational and career pathways, which have been affected by COVID-19
Sole Sistas – activeNewham: This walking project will create two new social walks along the Newham Greenway after the morning school drop off, to help increase the wellbeing of pre- and post-natal women who may have young children
Breaking the Cycle: Fixing Bikes, Changing Lives – YES Outdoors, Islington, Camden and Haringey: This project will create an opportunity for disadvantaged young people to restore abandoned bicycles under the guidance of qualified mechanics, with support from the Metropolitan Police Property Services. Participants will be able to keep one bike upon completion
Walking Down Memory Lane: Step-by-Step Stories around Toynbee Hall – Walk East, Tower Hamlets: This project will create four new walking routes that will start and finish at Toynbee Hall community centre in Aldgate. Stopping points along the walks will act as prompts for older participants to share stories and connections
Girls Inclusion in Community Cycling Clubs – Access Sport, Hackney, Ealing, Bexley, Harrow and Walthamstow: This project will give young and teenage girls the opportunity to develop a passion for cycling and BMX, with a focus on fun and support to develop professionally if desired
Walk and Talk Project – Southall Community Alliance, Ealing: This project will create local health walks through green spaces and along the Grand Union Canal to start a new community dialogue and combat social isolation. Ten trained volunteers will communicate in diverse languages including Punjabi, Hindi, Pashto and Somali to encourage residents to boost activity levels
Lewisham Family Cycling Library – Climate Action Lewisham: Funding will create a new Lewisham Family Cycling Library that will use an electric-assisted cargo bike to take family cycling equipment directly to the most vulnerable families in the borough
Over 60s Social & Cultural Walking Group – Sport4Health, Westminster, Kensington & Chelsea, Hammersmith & Fulham: This project will create a programme of participant-led cultural walks to boost the health and confidence of older residents, many of whom have suffered from isolation through the coronavirus pandemic
Bart's WeCycle Rehab – Walk and Cycle London, Waltham Forest: This project will support cycling as a rehabilitation activity for cardiology patients, who face particular barriers to cycling and walking that arise from their condition. Two BACPR cardiac rehabilitation nurses will take part in every session, providing a clinically safe and flexible programme to make cycling part of patients' long-term health management
Rutlish Recycle a Bike – Old Rutlishians Association, Merton: This project, in partnership with the walking and cycling charity Sustrans, will create a bike maintenance programme for secondary school students, who will learn how to repair and service donated bikes sourced from the local community. Once the bikes are road-worthy they will be sold to the local community at a subsidised price, making cycling more accessible to people on a low income
To mark the announcement of the latest winners the Mayor of London, Sadiq Khan, will today (Thursday 10 December) visit The Cut in Lambeth where through traffic has been restricted to people walking and cycling. Physical changes to streets like this – combined with funding for schemes like WCGL – are helping to transform our city.
The Mayor of London, Sadiq Khan, said: "I'm delighted that this year Walking and Cycling Grants London will support a record 68 projects thanks to the support of the London Marathon Charitable Trust. It is more important than ever that we do all we can to enable Londoners of all ages and backgrounds to take up walking and cycling. Not only will this mean they can enjoy the huge benefits they bring, but it will also free up space on public transport for those who cannot walk and cycle which is more important than ever to reduce the risk of a car-based recovery and ensure there is space to socially distance on public transport. Community schemes like this, combined with physical road changes to reduce danger, play a huge role in giving more Londoners the confidence to walk and cycle."
Sir Rodney Walker, Chairman of The London Marathon Charitable Trust, said: "This is the first year of The Trust's partnership with TfL's Walking and Cycling Grants London scheme, and we have been very encouraged by the increased number of high-quality applications received. The Trust's mission is to inspire activity and there are some fantastic projects within this round of funding that will enable more people from underrepresented groups to participate in walking and cycling activities. We look forward to seeing the projects develop and the impact they will have on helping people across London to enjoy the benefits of being physically active."
Lindy Kelly, Executive Director, Groundwork London: "We are delighted to support these community projects that help even more Londoners to enjoy all the benefits of active travel around our great city, particularly in a time when coming together as communities has never been so important."
Aisha Lawal, Club Inclusion Manager for Access Sport, said: "Access Sport are delighted to receive funding from TfL and The London Marathon Charitable Trust which will help support our vision that no one should be excluded from the transformational benefits of inclusive community sport. Our Girls Inclusion in Community Cycling project is all about giving teenage and younger girls the opportunity to develop a passion for cycling and BMX. We want to help combat the gender inequalities in cycling and ensure that as we move out of lockdown we are getting more girls cycling than ever before."
Janpal Basran, Manager, Southall Community Alliance: "Southall Community Alliance is excited and delighted that TfL and the London Marathon Charitable Trust have agreed to fund our 'Walk and Talk' project. Many months of lockdown and pandemic restrictions have taken a massive toll on the physical and mental health of some of Southall's poorest and most inactive residents and our project will provide some really welcome outdoor exercise and the opportunity to make new friends, in these difficult times. Our outdoor healthy walks will help residents improve their mental well-being and hopefully put a smile back on their face!'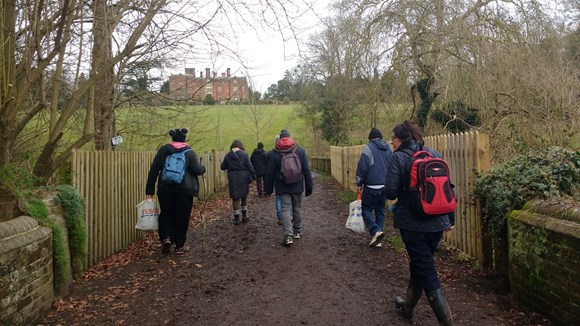 Since it began in 2015, TfL's walking and cycling grants have helped more than 180 projects across all 33 London boroughs – encouraging 41,000 participants to embrace walking and cycling. Now approaching its sixth year, initiatives include forest walks, bike maintenance, wildlife walks, 1-2-1 cycle training to help disabled children ride safely and independently, bereavement walks and courses to teach basic cycle maintenance. This year, TfL has introduced a community ideas hub to the WCGL website, as a forum to share ideas and learnings from effective walking and cycling projects that can be easily replicated by other community groups across London.
The WCGL programme forms part of TfL's wider work to encourage Londoners to incorporate more healthy and sustainable travel into their daily journeys.
In 2020, TfL and the boroughs continue to work on hundreds of Streetspace schemes across the capital, which are enabling people to walk and cycle safely during the coronavirus pandemic. In addition to the 90km of new or upgraded temporary cycle infrastructure either complete or under construction, more than 22,500 square metres of extra pavement space has also been created to allow people to maintain social distancing while walking. TfL and the boroughs have also installed 1,540 extra cycle parking spaces across London, focused around busy areas like high streets and transport hubs.