Transport for London (TfL)'s transformation of Old Street station and roundabout will reach its next milestone this weekend as roads are switched to their final layout, which will allow construction work on this vital project to move into its next phase.
During these works, the Inner Ring Road will remain open with lane closures. Old Street west and City Road south will be closed to traffic from 21:30 on Thursday 14 January to 05:00 on Monday 18 January.
From 05:00 on Monday 18 January, the right turn from Old Street west into City Road south will be permanently banned along with the right turn from Mallow Street into Old Street and Old Street west and City Road south will reopen to traffic. This layout is the same as the permanent, final layout of the completed roundabout, though not all traffic and cycle lanes will be available straight away. TfL is working closely with its contractors and Islington Council to complete the transformation work as quickly as possible, with plans to finish work by autumn 2022.
A temporary traffic layout, which separates some cycling routes from motor traffic has been in place since spring 2019 and the new layout continues to provide safer separate routes from other traffic.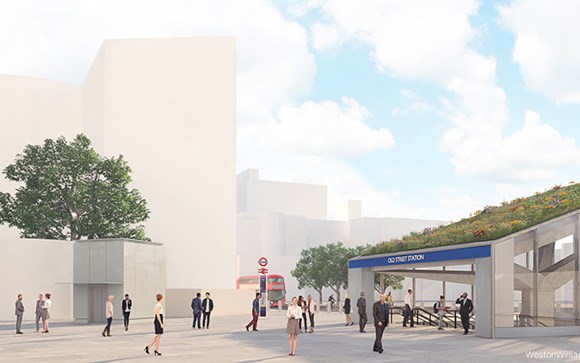 The transformation project will improve journeys for the millions of people using Old Street station each year, significantly reducing danger to people cycling and other vulnerable road users and enabling those who were previously put off by the intimidating roundabout to cycle there. The scheme will also create a major new public space with better access to Old Street station. Once complete, traffic will operate two-way through the redesigned junction, with fully segregated cycle lanes and cycle-only traffic signals around the new junction. The project will also deliver extensive improvements to the station entrance.
Will Norman, London's Walking and Cycling Commissioner, said: "Old Street is one of the busiest junctions in London in normal times so I'm really pleased that we have reached the significant milestone of switching roads to the final layout, and remain on track to complete the transformation by autumn next year. It's more important than ever that we make our roads safer for people walking and cycling to avoid a car-led recovery from the pandemic."
Nick Fairholme, TfL's Director of Project and Programme Delivery, said: "Our work to transform Old Street station and roundabout will make a huge difference to everyone who travels through the area. The project includes extensive improvements to the station and will create a significantly more attractive environment that is much safer for cycling and walking.
"The next phase of the project will affect how some people travel through the area and I'd advise people to check their journeys before they travel to avoid delays. I'd also like to thank everybody in the area for their patience while construction work continues."
After the traffic switch, some delays are expected in all directions on the approach to the junction while road users get used to the revised road layout. TfL is asking people in the area making essential journeys to allow more time for their journeys or consider making journeys by cycling or walking.