Welsh students looking to get into the construction industry got a helping hand with support for job interviews at a virtual event last week.
CITB led a partnership with North Wales Construction Partnership and Careers Wales that also included employers of all sizes to record the video, advising learners how to handle interview panels once they start looking for work.
With ambitious plans for the construction sector to play a key role in supporting Britain's post-Covid economic recovery, CITB is leading the way in ensuring young people looking to get into the industry, and those looking for a career change, have the skills they need to succeed.
Ceri Rush Jones, CITB's Customer Engagement Manager for North Wales, said: "Employers often find that students looking to join the sector are short on workplace skills and practical experience, while students going from learning to facing an interview panel can be a daunting experience. We're working with partners across Government and industry to ensure learners can continue to access those key skills despite Covid restrictions, and this video is just the latest in a variety of initiatives.
"This session ensured that young people have the tools they need to go into a job interview with confidence, so they can explain how their achievements will suit the role and how they can succeed in construction. We're pleased to have been able to get the thoughts of employers so they can share with aspiring workers what they're looking for, and young people will be empowered to pursue a rewarding career in construction. We'll continue to look at what we can offer to help achieve this, and may look at providing some practice interviews for learners as a next step."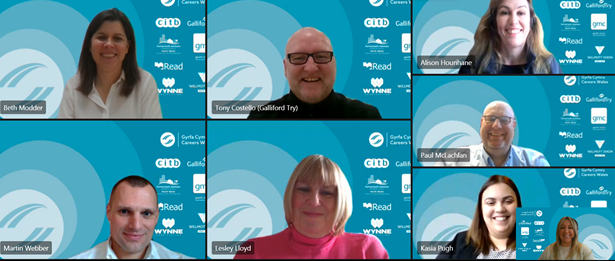 Caption: the online video session providing interview tips
One student to benefit was 17-year-old Emma, from Penrhos, who said: "I've not had a formal job interview before, but the part I found really useful was highlighting the buzz words in the job description. It also made me realised the importance of researching the company and finding out more about them before making my application and attending an interview.
"The advice for turning weaknesses into positives is very helpful and will definitely use this advice. It's good to know I can go back to watch this video to recap before future interviews."
This video is the first of many that CITB is working on in partnership with employers to create, which will focus on all aspects of the construction industry.
Employers involved in the initiative were Read, Wynne, Galliford Try, Gareth Morris Construction, and Willmott Dixon.
Tony Costello, Social Value Manager for Galliford Try, added: "It was a great honour to assist North Wales Construction Group to create a video based around job applications and interviews techniques.
"Collaboration works and it was great to hear positive statements from other contractors. Hopefully together we have supported future proofing our industry."